The Clean Aviation Joint Undertaking is the European Union's leading research and innovation programme for transforming aviation towards a sustainable and climate neutral future (Home | Clean Aviation (clean-aviation.eu)).
It aims to develop disruptive new aircraft technologies to support the European Green Deal, and climate neutrality by 2050. These technologies will deliver net greenhouse gas (GHG) reductions of no less than 30%, compared to 2020 state-of-the-art.
The aircraft developed will enable net CO2 reductions of up to 90% when combined with the effect of sustainable 'drop-in' fuels, or zero CO2 emissions in flight when using hydrogen as energy source.
With a budget of € 735,72 million, 14 new topics of this programme are opening on 12 April 2022.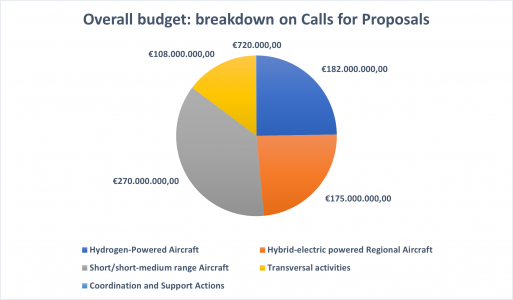 Here the list of Topics for Calls for Proposals:
Hydrogen-Powered Aircraft (HPA).
Direct Combustion of Hydrogen in Aero-engines
Multi-MW Fuel Cell Propulsion System for Hydrogen-Powered Aircraft
Large Scale Lightweight Liquid Hydrogen Integral Storage Solutions
Near Term Disruptive Technologies for Hydrogen-Powered Aircraft
Hybrid-electric powered Regional Aircraft (HER)
Multi-MW hybrid-electric propulsion system for Regional Aircraft
Thermal Management Solutions for Hybrid-Electric Regional Aircraft
Electrical Distribution Solutions for Hybrid-Electric Regional Aircraft
Innovative Wing Design for HybridElectric Regional Aircraft
Short/short-medium range Aircraft (SMR)
Ultra Efficient Propulsion Systems for Short and Short-Medium Range Aircraft
Ultra Performance Wing for Short and Short-medium Range Aircraft
Advanced Low Weight Integrated Fuselage and Empennage for Short Range and Short-Medium Range Aircraft
Transversal activities (TRA)
Aircraft architectures & technology integration for aircraft concepts ranging from regional to short-medium range applications
Novel Certification Methods and Means of Compliance for Disruptive Technologies
Coordination and Support Actions (CSA)
Developing an Integrated European Clean Aviation Regional Ecosystem (ECARE)
Hurry up! Discover all the details with Wheesbee, the deadline for submission of proposals is set to 23 June 2022.