WheesBee integrates, in a single platform, the best databases for your research and development projects. In this insight, we have analysed the "Health, Pharma & Life Science (LSH) sector" considering the data contained in the collaborations section.
Collaborative R&D and open innovation approaches are an integral part of the innovation processes of every organization. WheesBee provides a unique feature to aggregate collaborative and open innovation challenges from different stakeholders, allowing users to access projects in progress with Top Innovators, as well as allowing them to either answer or publish open innovation challenges. It is easy, effective, and brings about amazing new R&D opportunities.
Collaborative projects can be in form of:
Technology offer: innovative technology that an organization wants to share on the market for a license or commercial agreement.
Technical cooperation: looking for a partner to have technical assistance in innovative projects.
Research cooperation: looking for a partner to collaborate on a new financed R&D project. In some cases, the research funding is already identified, and the organization is looking for partners to complete the consortium.
In particular, considering the sector Health, Pharma & Life Science (LSH), there are 50 open collaboration opportunities, divided in: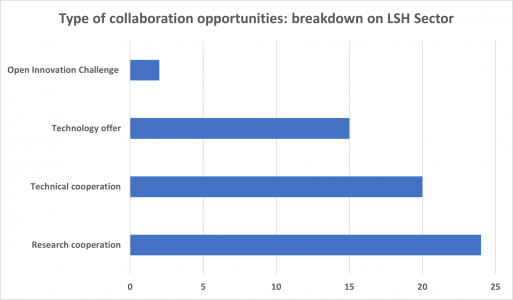 The main themes of these collaboration proposals are related to biotechnology for the bio-based and health industry, diagnostic healthcare, pharmaceutical formulation, health treatments and healthcare software, as shown by the following word cloud, generated by the texts of these 50 open collaborations on the WheesBee database: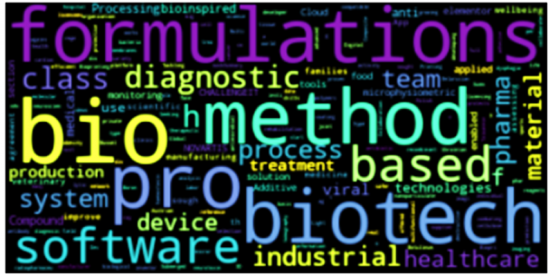 If you are interested in all the details, ask us a FREE ACCESS TO WHEESBEE for a limited period, compiling this form.
Our team is specialized in supporting Open Innovation initiatives by facilitating the matching between problem owners and problem solvers in the framework of a large network of innovative companies.
Contact us to be part of our network with your Open Innovation Challenges or, if you are a R&D centres, with your ideas / technologies.